認知症とともに幸せに生きる(平成28年度認知症支援ボランティア養成事業)英語版事業者別リーフレットを掲載しました
Living better with dementia - for building a dementia positive community
Please imagine how a person with dementia feel.
Please use this brochure as a support guide instead of as a support manual.
When talking to these people, please think with them about how they should be supported.
You may want to hide the fact that you require support.
When someone points out your mistake, you may desire not to see them again.
Your desire to go out may disappear because you do not want to inconvenience others.
If someone talks to you when you are confused, you may be relieved.
If someone talks to you in a cheerful way when you have difficulty organizing your thoughts, you may be glad.
You may desire to live a normal social life.
You may enjoy having a pleasant day by going out and communicating with people.
Your purpose of shopping may be not only to purchase daily necessities, but also to interact with others.
Please consider "how to have a pleasant time with the elderly", regardless of whether they are normal individuals or people with dementia.
To ensure that people with dementia and people around them utilize shops and other facilities in a manner enabling those working there to provide services comfortably, we should intently listen to them, which may be more important than having knowledge on dementia.
Please download freely the following pages and utilize for building a dementia positive community.
 Hidetoshi Endo, MD, PhD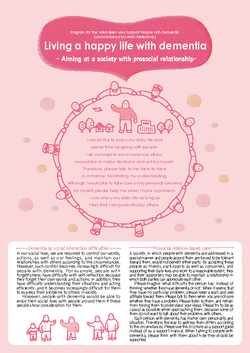 download(PDF:11868KB)

---
ダウンロードができない場合は、jmkyoku*ncgg.go.jpまでご連絡ください。(メールアドレスは"*"を@に変更してお送りください)